Preventive Healthcare Program
Medical Checkup & Hepatitis Vaccination of CCF Students
The CCF School Health Program covers preventive and curative healthcare services for children. It is a regular and ongoing activity that CCF undertakes on an annual basis with the help of its local and international partners and courtesy Mr. Tariq Mahmood, Chairman CCF Executive Committee and Board member. The Health Committee, under the chairmanship of Lt. General (R) Afzal Najeeb ensures the implementation of the health program. Under this program, preventive and curative healthcare areas are covered such as; CCF conducts an annual medical check-up of school children and administers Hepatitis-B vaccinations.

Over the last 20 years, CCF in collaboration with its multiple partners organized countless medical camps for children and their siblings and mothers. In the recent past Dr. Naureen Zafar [MRCOG] and Dr. Fauzia Monnoo visited CCF schools in Lahore and Sheikhupura and conducted field health screening camp for children and their siblings. And also provided expert medical counseling to mothers.
Impact of CCF Schools on Local Communities
continuous mobilization is sensitizing locals on child labour issue CCF-PEF project schools have drawn more working children to schools children & families are becoming more conscious of personal hygiene students mainstreaming ratio has increased to almost 100% in recent years VEC / FEC system has developed a new sense of ownership in locals trained teachers are contributing in increasing girl-child enrolment preventive healthcare activities has enhanced its image in communities schools extra-curricular activities are increasing children's' interest in schools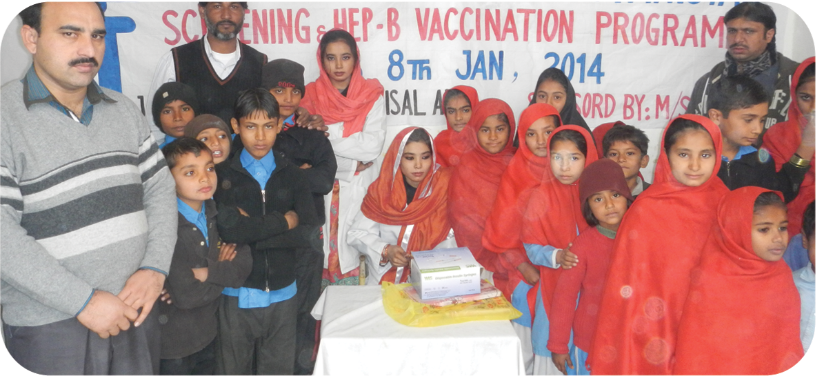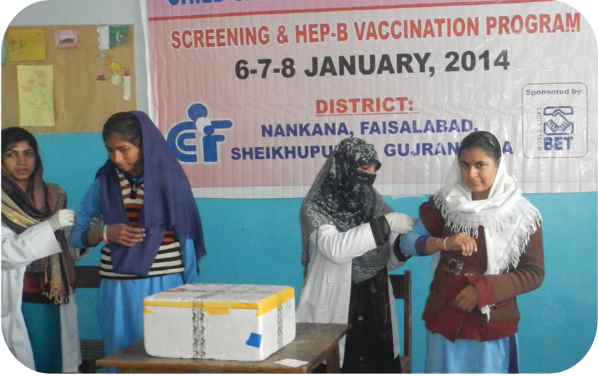 CCF Micro Credit Programs: Crediting Their Cooperation
Since poverty is a major cause of child labour, increasing family income by other means enables families to stop depending on the work of children. As part of its multi-pronged strategy to combat child labour, CCF in collaboration with ILO and other agencies in the past launched 'Income Generation Schemes' in Sheikhupura and Faisalabad.

CCF initiated two Micro Credit Programs: one with First Women Bank in Sheikhupura and the other with Punjab Rural Support Program (PRSP) in Faisalabad. CCF provided data on target groups and regions to these institutions for facilitation of their decisions in extending micro credit.

In Phase-1 of the Program, First Women Bank provided micro-credit worth Rs. 9, 88500 to 627 families of 62 villages of Sheikhupura district with average of 11,000 per beneficiary. The recovery rate was almost 100 percent in the first phase.

In the Phase-2 of the program, micro-credit worth Rs. 1,312,000 was provided to 109 families of 10 villages of Sheikhupura district with an average loan of Rs. 12,000 per family. In this phase the recovery rate of loan from beneficiaries was 99.79 percent. CCF ceased its micro-credit programs for some time, intending to undertake a more innovative program to provide maximum benefit to the parents of enrolled students.
Monitoring & Evaluation System of Schools
Child Care Foundation has an elaborate system of Monitoring and valuation for its Formal and Non-Formal Schools. CCF Monitoring and Evaluation activities can be broadly categorized as follows
Monitoring Process
• Reporting by Formal and NFS teachers
• Monitoring by Field Mobilizers/Officers
• Monitoring by Village Education Committees
• Monitoring by School Management Committees
• Monitoring by Education Officers
Evaluation Process
Evaluation of CCF Formal and Non-Formal Schools is carried out in three ways:
• Surprise evaluation by partner organizations
• 3rd Party evaluation by independent evaluators/consultants
• Evaluation by CCF Education Officers
• Surprise school visits by top management/board members
CF Examination System
CCF is running a Dual Examination System at all Schools:
Internal Examination: External Examination
Internal Examination:
Carried out by CCF Education Department on regular basis
External Examination:
Carried out by Partners Quality Assurance Tests [QATs]
Quality Education Initiatives Teachers Training Programs
Professional training is an integral part of our teachers training program. Regular teachers-training workshops are organized in collaboration with local partners. CCF teachers and staff attended several teachers training and capacity building workshops conducted by FFF, PEF, NCHD, SAHE, LIME, Rising Sun Institute, NCHD, LIME, SAHE throughout the last two years. In addition to this, our education department held back-to-back teachers training sessions on various subjects to enhance the teachers' teaching and management skills.